Don't start without a plan.  This is a giant place, truly gigantic, and without a plan that includes time to rest you may fall into a deep case of museum coma. The original palace of the King of France (replaced by Versailles) was turned into the great museum in the eighteenth century. Through the nineteenth, France continued to collect its own art and brought back a lot purloined stuff captured from military and archeological forays. So the Louver has a spectacular collection of antiquities from Egypt and the Middle East, in addition to being a prime repository for traditional, academic French art: especially the great history paintings, which were at the apex of the hierarchy of artistic genre, and capture scenes of actual historical events, as well as those from legend and literature, typically with some strong moral meaning; shown in an elevated and noble style, part of what art historians call the Grand Manner. (Recognizing that these constituted "real art" for centuries makes the subject matter chosen by the Realists and Impressionists all the more radical.) Also highly, highly notable is the new Islamic section opened just in 2012. While pacing yourself, feel free to wander aimlessly and take in what takes you in; alternately, you might want to seek out particular works of art or areas of geographic, cultural or era interest, like:
Ancient & Medieval
Egypt (Sully Wing, ground level)
Babylon, Assyria, etc. (Richelieu Wing; ground floor)
Greece & Rome (Denon Wing; ground floor)
Medieval core and moats of the old palace (Sully Wing, lowest level)
In particular, don't miss: The Winged Victory* (Denon Wing, 1st floor)
If you're not moved by this eight-foot Hellenistic sculpture, you may be missing a pulse.  Created in the 2nd c. BCE, it's similar in time and emphasis as the Laocoön, but very different in temperament. Beautifully displayed here at the Louvre at the end of a long corridor and on a high landing to replicate its original setting on a cliff face on the island. Fun fact: also Frank Lloyd wright's favorite sculpture.
Islam (Denon Wing; 1st & 2nd floors)
"Muslim art" has been on display at the Louvre since 1893 but only recently has an extensive gallery been dedicated to the sweeping collection after it was made the eighth proper "Department" of Art in 2003.Over 32,000 SF of space filling the Cour Visconti, restored by Rudy Ricciotti and Mario Bellini, and featuring an undulating glass roof, it's the greatest addition to the Louvre since another big glass intervention, Pei's Pyramide of 1989. Thousands of works of all sort from 7th century to 19th century.
Renaissance & Baroque
Italy (Denon Wing; 1st floor)
France, including Rigaud's portraits of King Louis XIV*, etc. (Richelieu Wing; 2nd floor)
18th-19th Centuries (Denon Wing; 1st floor)
Here's the place to come if you'd like to extend your vision up to Great Britain and/or if you are missing the USA. But more important than the British & American art here, the big, big deal is, of course, French History Painting. The main galleries house some of the most canonical and significant (not to mention gigantic) works within the entire complex of the Louvre, or any other museum. They encapsulate the kind of art that École students would have studied through the early 20th c. Of these bigguns (and a few small yet significant Italian works), here are some to see for sure:
The Wedding Feast at Cana (Veronese, 1562)
Italy followed us to Paris! Appropriate to the scale of this religious theme (almost 33 feet long), this painting chronicles the story from John 2 in which Jesus turns water into wine. Veronese falls within the date and timeframe of Mannerism, and shows exaggerations of figure, light, and color, with high drama and action portrayed in the composition with a certain tension that is appropriate a miracle witnessed in a crowded scene. It was commissioned for a refectory in Venice designed by Palladio, where it hung until Napoleon's soldiers nabbed it in 1797 and brought it back to Paris. Too big to carry, it was cut in half and sewn together
The Coronation of Napoleon (David, 1807)
Measuring about 20 x 30 feet, this is Napoleon's official court painter's official representation of this ceremony. A sweeping, frieze-like composition replete with meticulous details is clearly in line with the genearl tenants of Neo-Classicism. It features over a dozen recognizable, and idealized, figures with the emperor at its center, wearing Roman-imperial-inspired robes and holding aloft the crown he would wear
Liberty Leading the People (Delacroix, 1830)
Only 23 years after the Coronation but very different, in its approach to what is historically significant and also its stylistic quality. A memorial of the Revolution of 1830 in which the king was deposed, it shows a personification of Liberty, wearing a cap that was associated with freed slaves in antiquity, holding the revolutionary flag (the tricolour) and a bayonet, leading the people over a barricade and dead bodies. Besides the political shift, this painting shows Delacroix as a great exemplar of Romanticism (revealing the artist's high emotional reaction to the scene as a goal that was important as the subject matter itself), where the fine drawing of Neo-Classicism gives way for freely brushed color and more active, ambitious compositions
Raft of the Medusa (Géricault, 1818)
This controversial  painting is a scathing commentary on a disaster at sea in which 132 people died when a French naval frigate ran ashore due to apparent captain incompetence. Survivors were forced into cannibalism. Astonishing as an uncommission work, the artist created a unique blend of history painting (at good scale, some 16 x 23 feet) in dramatic presentation as a rich representation of Romanticism, with an overlapping pyramidal structure, packing an emotional impact that contrasts light/dark as well as living/dead, more appropriate to the horror of the event than the clam and order of Neo-Classism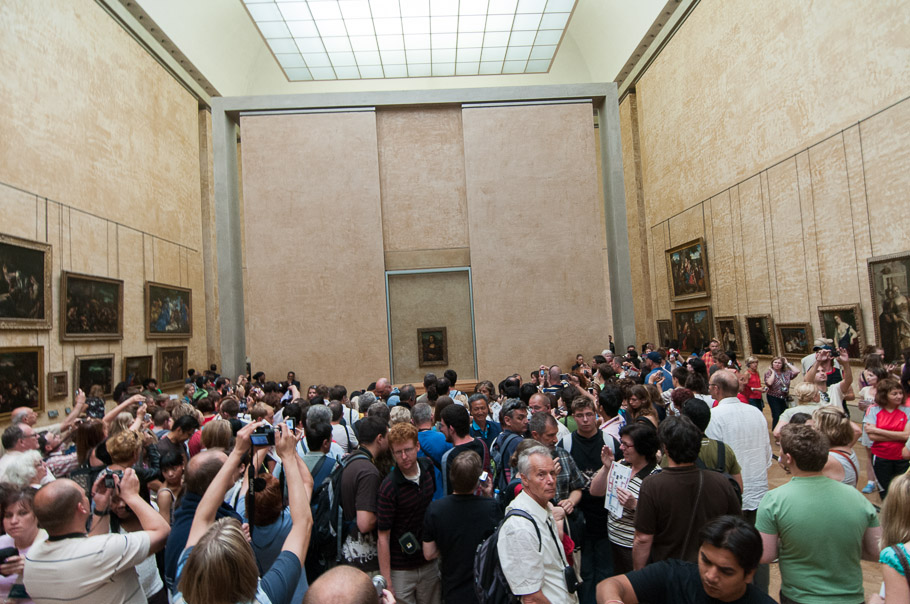 Mona Lisa ( Leonardo Da Vinci, 1503)
Nearby, you will find the Mona Lisa behind very thick plexi and a dozen rows of tourists taking selfies. Go see it, since you must have that experience; but then tour the rest of that room and the surrounding galleries.
The Virgin and Child with Saint Anne (Leonardo da Vinci, 1503)
Near to the Mona Lisa, you will find the greatest Leonardo da Vinci there is: The Virgin and Child with Saint Anne* (1483). It's utterly gorgeous in coloration, composition, and here you will see full-on Leonardo treatment of the fuzzy landscape and impossibly shadowy facial modeling.
Napoleon III Apartments (1852-57)
First floor, Richelieu. See how the emperor and founder of the Third Empire decorated his own place when he wasn't talking with Garnier about how to design the Opera.
The Astronomer (Vermeer, 1668)
The Lacemaker is on the opposite wall. Wonderful composition, light, detail.